A Joyous Way to Learn!
Music Play to Promote Readiness, Literacy, Math Development and Inclusion (4 KDHE hours)
Presented by Jim Gill, M.Ed.
In this energizing session, Jim Gill shares examples of his award-winning songs and musical books that combine opportunities for active movement with word play, rhymes, and tongue-twisting challenges. Early education and care professionals will appreciate the finger plays and singable songs that they can share with children immediately after the workshop.
These practical ideas inspire play, but Jim also reminds early childhood professionals why we play.
Jim discusses how music play inspires young children not only to move but to regulate their movements….not only to sing but to make connections between the words they sing and the printed word and the world of numbers. Jim describes how music play can help to create an inclusive environment for children with special needs and from all different backgrounds. Most importantly Jim points out, in detail, the many opportunities for professionals to implement the best early childhood practices when they, as caring adults, are actively involved in sharing music play with young children.
Early childhood professionals will leave the session inspired to celebrate in the classroom and in-home care settings with new songs and playful literacy activities. Even more, they will leave the session thinking about new strategies to help children learn.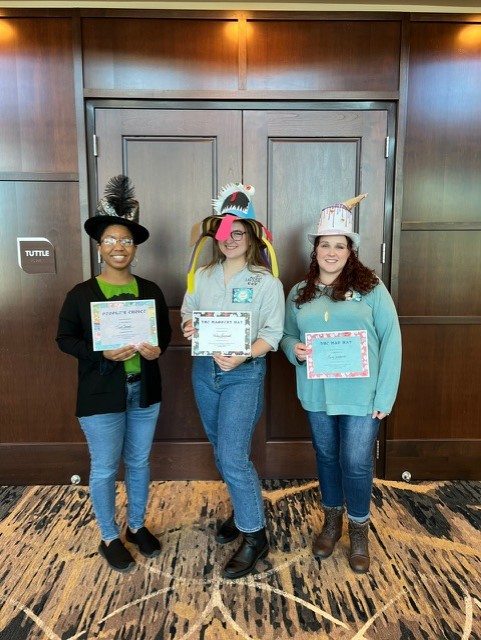 When:
Saturday, March 4th, 2023 from 8:00 AM – 3:00 PM

Check-in starts at 8:00 AM
Speaker 8:30 AM
High Tea (snack) 10:00 AM
Speaker 10:30 AM
Lunch 12:00 PM
Recognition and Speaker 1:00 PM
Certificates & Closing 2:30 PM
Where:
Venue: K-State Alumni Center; 1720 Anderson Ave., Manhattan, KS 66502
Nearby Hotels:
Parking: Free parking is available in the west lots next to St. Isadore's Catholic Church. You can also use the University Parking Garage to the East of the Alumni Center which may have an hourly fee at the time.
Cost:
$35/person
Includes mid-morning high-tea, lunch, training resources and a Mad Hatter event t-shirt! (no breakfast)
Receive a Certificate for 4 KDHE Approved Hours upon completion.
Scholarships Available: If you work in a licensed Kansas child care facility, you can apply for a scholarship that covers the cost of registration, travel, and lodging. Visit https://kccto.org/providers/scholarships/ for more information. Scholarship applications will be accepted before or after (for reimbursement) the event.
Group Registrations: If you are with a Child Care Center and need to register 10 or more staff, please call 785-532-7197 or email kccto@ksu.edu.
Mad Hat Contest
Participate in the best competition of the year! Bring your maddest hats for the Mad Hat Contest: store-bought, handmade, or created with the help of tiny fingers – we want to see them all! Top three hats win free registration for next year's event.
Event registration closes Friday, February 10, 2023.
If you are with a Child Care Center and need to register 10 or more staff, please call 785-532-7197 or email kccto@ksu.edu.
For Dietary Restrictions, or Language or Disability-related Accommodations, please contact KCCTO at kccto@ksu.edu or call 785-532-7197.
---
Health Statement:
As many illnesses continue to spread, we are cautiously optimistic and prepared to manage our Mad Hatter event in person, with the health and safety of you, our guest speaker, vendors, and staff in mind. We are mindful of the young and vulnerable population that you work with every day and strive to ensure their safety and well-being as well.
We recognize our shared responsibility to be vigilant of potential COVID and illness systems. As such, should you develop and symptoms in the days leading up to the event, notify our staff to discuss your options, including our extended reimbursement policy.