Yoga and Mindfulness for Children & Adults with Bari Koral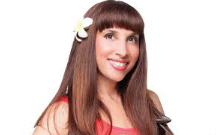 Join us for the 7th Annual Mad Hatter Tea Party as Bari Koral teaches us about yoga and mindfulness! Bari is a popular children and family recording artist and a globally recognized kids' yoga educator. Her songs and activities for kids' yoga are used by thousands of children and teachers every day. Yoga and mindfulness has helped calm her own anxiety and has significantly enhanced her life. Bari passionately seeks to share these tools for health and happiness with others. She has trained thousands of teachers and is at the forefront of introducing and reinforcing the benefits of yoga and mindfulness with young children. Between her trainings, Youtube, music, and products her ideas are so implemental that Kaplan has called her a Kids Yoga Pioneer. You can see Bari's positive influence in countless early childhood classrooms. Bari is an E-RYT 200 and RCYT through Yoga Alliance. She is a top trainer at NAEYC and has been featured at many state and national conferences.
When:
Saturday, March 7th, 2020
Where:
Hilton Garden Inn
410 S. 3rd Street
Manhattan, KS 66502
Phone Number: 785-532-9116
How Long:
8:30 A.M. to 3:30 P.M. (Check-in from 8:00 to 8:30)
5.5 KDHE Approved Clock Hours
Cost:
What You Get:
Register by February 14th, 2020 at 5:00 pm to receive a FREE Mad Hatter T-Shirt! The 2020 Mad Hatter T-Shirt will not be available for purchase on-site.
Free resources: Full Yoga and Mindfulness Kit
Lunch included with registration.
Maddest Hat Contest:
Don't forget to use your imagination and bring your most creative hat (homemade or store-bought – your choice!). The Mad, Maddest, and People's Choice Hat winners will receive a special prize at the end of the day!
Registration Information:
Have dietary restrictions or need disability or language related accommodations? Contact us at kccto.inc@gmail.com, 785-532-7197, or 800-227-3578 no later than February 24th, 2020.
Refund deadline: February 24th, 2020
Registration for the 2020 Mad Hatter Tea Party is FULL! Thank you for your interest, and we hope to see you next year!