Organization Partners
Kansas State University

KCCTO is a sponsored project of Kansas State University and the College of Health and Human Sciences. As a sponsored project of the University, KCCTO strives to embody the College's mission and values:
Mission Statement: The mission of the College of Health and Human Sciences is to promote the well-being of individuals, families, and communities through research, education, and outreach.
Value Proposition Statement: The College of Health and Human Sciences prepares students for meaningful lives and careers that promote human well-being through business, design, education, health, and human behavior.
The University of Kansas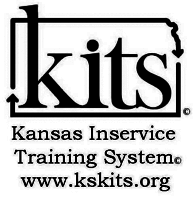 KCCTO has partnered with the Kansas Inservice Training System (KITS) at The University of Kansas to provide the Infant Toddler Specialist Network (ITSN). The goal of KCCTO-KITS ITSN is to:
Impact child care quality by providing education, support, consultation and technical assistance to early childhood professionals who care for infants and toddlers in Kansas.
Course Partners
We work with a variety of community organizations to provide the best training and services to our community. These partners help us by providing training, guidance, and support for a variety of courses.
Kansas Breastfeeding Coalition, Inc
http://ksbreastfeeding.org/
Kansas Children's Service League
https://www.kcsl.org/
Kansas Department for Children and Families
http://www.dcf.ks.gov/Pages/default.aspx
Kansas State University College of Health and Human Sciences
https://www.hhs.k-state.edu/
KCCTO-KITS Infant Toddler Specialist Network
http://kskits.org/kccto-kits-infant-toddler-specialist-network
Marianna Kistler Beach Museum of Art
https://beach.k-state.edu/
Poison Control Center of Kansas
https://www.kansashealthsystem.com/care/centers/poison-control-center
Safe Kids Kansas
http://www.safekidskansas.org/
Interested in partnering with KCCTO?
KCCTO welcomes partnerships and sponsorship opportunities. Connect With Us to tell us more about your organization!